A Voice in the Night (SIGNED LIMITED EDITION) by Jack McDevitt (Out of Stock)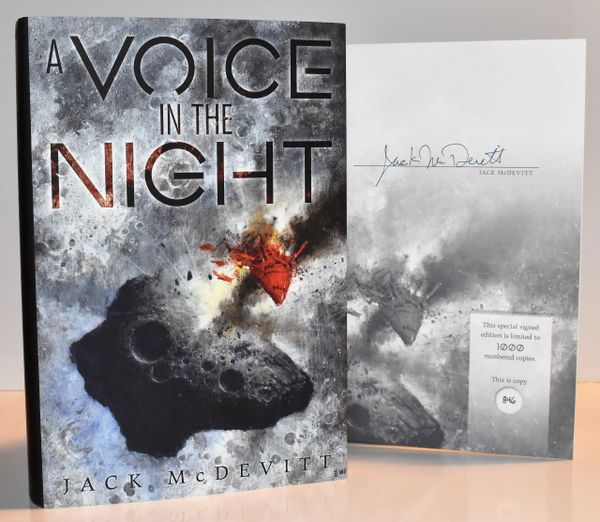 A Voice in the Night (SIGNED LIMITED EDITION) by Jack McDevitt (Out of Stock)
published by Subterranean Press
Signed & Numbered Limited Edition Hardcover to 1000 Copy's
Hand Signed by Jack McDevitt
Jack McDevitt has been a Sherlock Holmes fan since he was a teenager, although he reports that Holmes-style mysteries, whodunits, are not his favorite style. Jack encountered Gilbert Chesterton's Father Brown tales a few years later and they ultimately became the prime influence in his science fiction. The issue with Father Brown was never a question of who committed the murder, but rather what in heaven's name is going on here?
Why does an astronaut, in "Cathedral," sacrifice her life to collide with an asteroid that she knows poses no threat to the Earth? Why does a scientist who's designed an actual working AI in "The Play's the Thing," hide what's he's done? How is it that the lives of two people working at Moonbase in "Blinker" depend on a quasar?
In "Lucy," Jack shows us why sending automated vehicles to explore the distant outposts of the solar system may not be a good idea. And in "Searching for Oz," an alternate history story, how things might have been if SETI had gotten what it was looking for. He describes our reaction in "Listen Up, Nitwits," when a voice begins speaking to us, apparently from Jupiter, in Greek. And in "The Lost Equation," a Holmes adventure, we discover who really was first to arrive at e=mc2.
Jack also provides two episodes, "Maiden Voyage" and "Waiting At the Altar," from Priscilla Hutchins' qualification flight; and an effort by a sixteen-year-old Alex Benedict, in the title story with his uncle Gabe and Chase Kolpath's mom, Tori, who are trying to understand why a brilliant radio entertainer, lost in the stars when his drive unit suffered a malfunction, never said goodbye.
Table of Contents:
Introduction: Jack McDevitt, History Builder, by Martin L. Shoemaker 
Searching for Oz 
The Law of Gravity Isn't Working on Rainbow Bridge 
The Adventure of the Southsea Trunk
Combinations 
It's a Long Way to Alpha Centauri
Lucy
Listen Up, Nitwits
Midnight Clear
The Lost Equation
Blood Will Tell, Co-written with Tom Easton
Blinker
Friends in High Places
Maiden Voyage
Waiting at the Altar
The Play's the Thing
Oculus
Good Intentions, with Stanley Schmidt
Molly's Kids
Ships in the Night
The Pegasus Project 
The Last Dance
Cathedral
Weighing In
A Voice in the Night
Reviews