Station Eleven (SIGNED LIMITED EDITION) by Emily St. John Mandel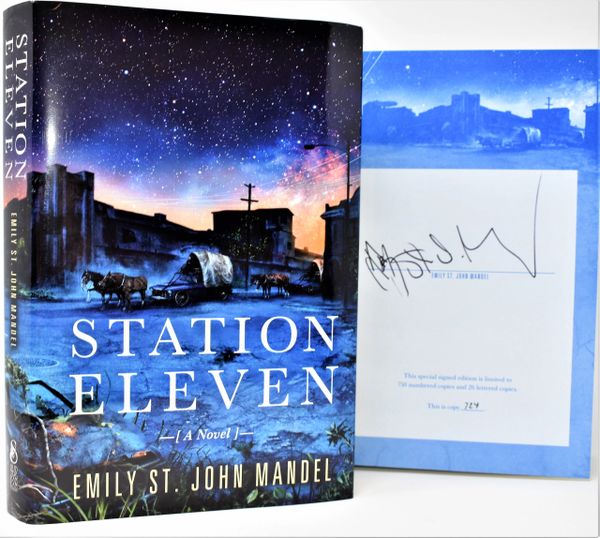 Station Eleven (SIGNED LIMITED EDITION) by Emily St. John Mandel
Published by Subterranean Press
Signed & Numbered Limited Edition
Limited to 750 Numbered Copy's
On stage during a snowstorm King Lear collapses, and the actor playing him, Hollywood star Arthur Leander, never gets up. Young Kirsten Raymonde, child actress, watches from the wings as Arthur dies. A former paparazzo-turned-EMT in the audience tries to save him, leaving to discover the early stages of a fast-spreading flu have descended on the city and the world. Arthur's former wife reflects on their time together and the graphic novel that is her great work of art.
Fifteen years after Arthur's death, the Traveling Symphony tours the Great Lakes region of a sparsely populated, greatly altered United States. Time is marked as before and after the flu, and life—like the remnants of civilization—is still ever-fragile. An actress with the company, Kirsten bears an inscription from Star Trek on her arm—"Because survival is insufficient"—that is echoed on a Symphony caravan. In the town of St. Deborah by the Water, the Traveling Symphony provokes a local tyrant, a crisis that follows them onto the road.
Emily St. John Mandel's New York Times bestselling Station Eleven is at once a gripping post-apocalyptic page turner and a hopeful, elegiac masterpiece that explores the connections that bind humanity. Shortlisted for the National Book Award and winner of the Arthur C. Clarke Award, among many other honors and accolades, Station Eleven has joined the classic pantheon of imagined futures.
Reviews