Cosmic Interruptions, Blood In The Gears, Wet JuJu & Gothic Wounds (Signed & Numbered Limited Set) by Joe R. Lansdale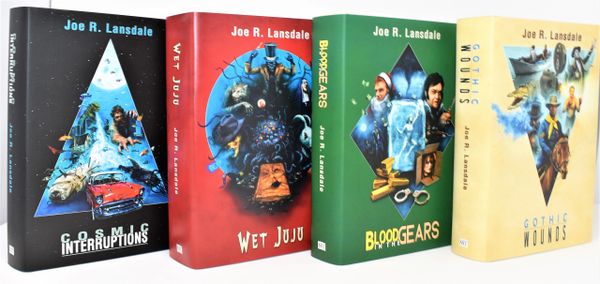 Cosmic Interruptions, Blood In The Gears, Wet JuJu & Gothic Wounds (Signed & Numbered Limited Set) by Joe R. Lansdale
Cosmic Interruptions, Blood In The Gears, Wet JuJu & Gothic Wounds by Joe R. Lansdale,

Published by SST
Signed & Numbered Limited Edition 4 Book Set

Each book is Hand Signed by Joe R. Lansdale with matching number
Cosmic Interruptions is a collection of speculative fiction by Joe R. Lansdale. The stories here have been grouped as part of a four part set, this first volume loosely falling into the speculative fiction, science fiction, and off-beat fantasy realm. The stories range from alternate universes to dark futures to the warping of time and space, and a variety of unclassifiable items. There is action, humor, whimsy, and a large dollop of what was once called A Sense of Wonder. Future volumes will gather tales of crime and mystery fiction, horror and East Texas Gothic, and historical and western stories. This is a unique chance to gather not only Lansdale's popular stories, but some that are lesser known and should be known more broadly.
Table of Contents:


Introduction by Joe R. Lansdale

Bill the Little Steam Shovel

In the Cold Dark Time

Duck-Footed

Tight Little Stitches in a Dead Man's Back

Trapped in the Saturday Matinee

Letter From the South, Two Moons West of Nacogdoches

Starlight, Eye Bright

Down by the Sea Near the Great Big Rock

Trains Not Taken

Fish Night

Bar Talk

On the Far Side of the Cadillac Desert with Dead Folks

Personality Problems

Morning, Noon and Night

Godzilla's Twelve-Step Program

The Fat Man

The Gruesome Affair of the Electric Blue Lightning

The Dump

After the War

Hell Through a Windshield

The Tall Grass

Big Man: A Fable

The Shaggy House

King of the Cheap Romance

Rex

The Steam Man of the Prairie and the Dark Rider Get Down: A Dime Novel

Goodies

Way Down There
Blood in the Gears is the second in a four volume set of stories by Joe R. Lansdale. Each, as best is possible, covers a certain branch of his career. While none of the volumes neatly fit into a box, this volume attempts to point to those stories of his that contain the elements of crime, mystery and suspense. Some of them are creepy, some bloody, some strange, all powerful and unique. Well know stories and lesser known tales rub shoulder to shoulder here, and when they do, the friction causes blood to drip into the story gears. These are the results of the raw and contradictory elements of flesh, and blood, and bones that make up the human machinery.
Table of Contents:


Introduction by Joe R. Lansdale

Drive-In Date

The Phone Woman

Dirt Devils

The Steel Valentine

Naked Angel

Billie Sue

The Job

Master of Misery

The Ears

Everybody Plays the Fool

Bestsellers Guaranteed

Rainy Weather

Booty and the Beast

I Tell You It's Love

Shooting Pool

Private Eye

Hot in December

The Devil's Pants

The Shadows, Kith and Kin

Old Charlie

The Drunken Moon

The Old Man in the Motorized Chair

The Events Concerning a Nude Fold-Out Found in a Harlequin Romance

Six-Finger Jack

Walks

Incident On and Off a Mountain Road

Santa at the Café
Wet JuJu: A ravenous cowboy hat-wearing mummy invades a rest home where possibly Elvis and John Kennedy reside, and it's up to them to protect their home and stop its stealing of souls. A top hat wearing, razor-carrying demon from another dimension is found in an old house. An iconic bear with a taste for sex and mayhem meets an unsuspecting traveler on an airplane. A sentient set of false teeth with an insatiable appetite goes on a rampage. A Halloween monster that folds and fits in the trunk of a very strange car driven by nuns, pursues a carload of smart-ass teenagers. A gunslinger meets a peculiar set of ghosts and werewolves in an abandoned town. A black detective hunts for a lost recording tied to a deal with the devil, blues music, and a Lovecraftian creature with soul-claiming designs. A survivor of a zombie apocalypse hangs Christmas decorations. The ghost of an alien space traveler resides deep underground and can only be stopped by Dana Roberts, an expert at dealing with the supernormal.These are just a few of the stories in WET JUJU. Horror and weird tales, oddities that cling to the brain, lurk within the pages of this enormous volume of Lansdale goodness. Everything you need for happy nightmares.
Table of Contents:


Introduction by Joe R. Lansdale

Mr. Bear

By the Hair of the Head

My Dead Dog, Bobby

The Folding Man

The Hunt: Before, and After the Aftermath

Family

Once Upon A Time

God of the Razor

What Happened To Me

The Bleeding Shadow

Death Before Bed

A Visit with Friends

Christmas with the Dead

The White Rabbit

Dread Island

Dog

Dead Sister

The Gentleman's Hotel

In the Mad Mountains

The Redheaded Dead

A Hard-On For Horror: Low Budget Excitement

The Case of the Angry Traveler

Boots

Regular Sex and Admiration

An Arrow in the Air

Dog, Cat, and Baby

Levitation

Bubba Ho-Tep

Hanging

Apocalypse

Love Doll: A Fable

December

King of Shadows

The Bones that Walk

Hole

The Junkyard

Chompers

Huitzilopochtli

Torn Away
Gothic Wounds oozes stories of grim doings in the Southern climes of East Texas, with a few stories outside the usual Lansdale realm.

Meet real life horrors and old mythologies in these dark and sometimes humorous and satirical stories of adventures and mysteries, suspense and strange moments in the backwoods.

Get out your hip boots and your skeeter spray, and you might want to bring a horse and saddle for when the tales move out West, but most importantly bring your imagination.

Read about a bizarre mule race, a movie projectionist's obsession with a beautiful young woman that leads to a violent event. Venture onto the Sabine River with Hap and Leonard and find a sunken boat full of death and treasure. Meet a blind man with a weed eater who has nefarious plans. Follow the path of a World War soldier returning home only to find home isn't what it used to be. Meet a wrestler well past his prime who grapples with an opponent over a long-lost love. Go down into a pit and watch two brave men in a mad, mad world, fight for a championship that ends in death for one of them. Then drive on out to Geronimo's grave and battle a dangerous bank robber. Then have a sip of blood and Lemonade, as we learn of an event in the past of one of Lansdale's best-known characters, Hap Collins.

And there's more. So, pull up a chair, seat yourself with a big glass of ice tea or a Dr Pepper, and have a stack of vanilla cookies close at hand for sustenance. Crack this book full of the unexpected, and dive in.

The storytelling water is fine.
Table of Contents:


Introduction by Joe R. Lansdale

White Mule, Spotted Pig

The Projectionist

In the River of the Dead

Hide and Horns

Mad Dog Summer

Cowboy

Mr. Weed-Eater

The Stars are Falling

Dead on the Bones

Solderin'

The Fat Man and the Elephant

Night They Missed the Horror Show

The Big Blow

Steppin' Out, Summer '68

Blood and Lemonade

The Pit

Wrestling Jesus

The Sabine was High

Driving to Geronimo's Grave

By Bizarre Hands
Reviews