Dead on the Bones by Joe R. Lansdale (SIGNED Limited Edition)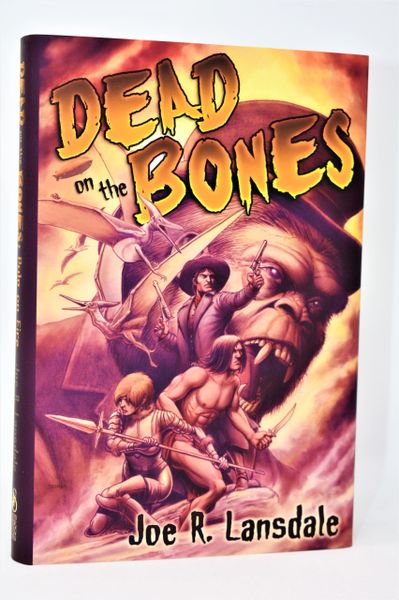 Dead on the Bones by Joe R. Lansdale (SIGNED Limited Edition)
Signed & Numbered Limited Edition Hardcover
"I was living in a pulp writer fury, a storm of imagination." So Joe R. Lansdale, award-winning author of more than twenty novels and two hundred short works, describes the birth of his desire to be a writer after encountering pulp storytelling as a kid in TV, comics, and books. Now Dead on the Bones: Pulp on Fire collects eight stories where Lansdale pays tribute to the rip-roaring tales of his youth.
Dedicated to Edgar Rice Burroughs and Robert E. Howard, "Under the Warrior Star" finds hero Braxton Booker on another, battle-wracked planet, while  "Tarzan and the Land That Time Forgot" was expressly permitted by the Burroughs estate. In "Dead on the Bones," a Conjure Man facilitates a boxing match between the living and the dead, with a twist. "The Gruesome Affair of the Electric Blue Lightning" crosses Poe with horrors that could have walked straight out of Lovecraft. Meanwhile, in "Naked Angel" a cop discovers a dead woman encased in ice on the noir streets of Los Angeles, not realizing he shares a personal connection with her. Other stories here bring readers face to face with vampires and far stranger creatures, all in Lansdale's signature, Texas Mojo style.
Lansdale is rightly recognized as one of the most distinctive voices in modern fiction, pulp or otherwise. From Venus to vampires, Dead on the Bones is a fine, thoroughly enjoyable demonstration of why.
Reviews