Find Your Path (SIGNED BOOK) by Carrie Underwood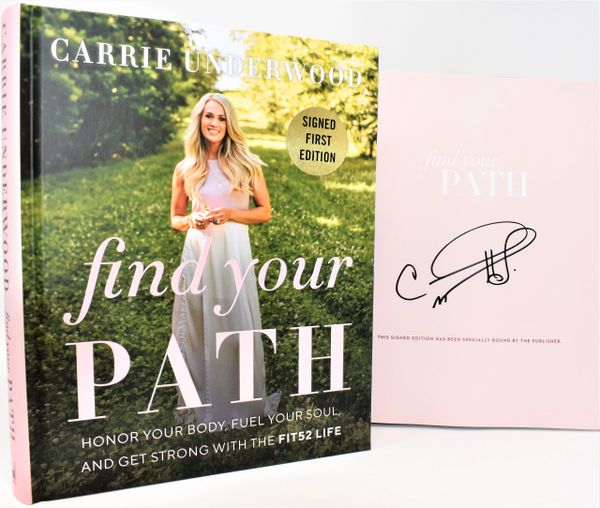 Find Your Path (SIGNED BOOK) by Carrie Underwood
First Print, First Edition Hardcover
Hand Signed by Carrie Underwood COA 8479

Country music megastar Carrie Underwood, one of the hottest (and fittest) stars in the business, shares her Fit52 program for getting active, eating well, finding balance, and looking as beautiful as you feel? 52 weeks of the year
"I want to be healthy and fit 52 weeks of the year, but that doesn't mean I have to be perfect every day. This philosophy is a year-round common-sense approach to health and fitness that involves doing your best most of the time?and by that I don't mean being naughty for three days and good for four. I mean doing your absolute best most of the time during every week, 52 weeks of the year."?Carrie Underwood
Carrie Underwood believes that fitness is a lifelong journey. She wasn?t born with the toned arms and strong legs that fans know her for. Like all of us, she has to work hard every day to look the way that she does!
In FIND YOUR PATH she shares her secrets with readers, with the ultimate goal of being the strongest version of themselves, and looking as good as they feel. Carrie?s book will share secrets for fitting diet and exercise into a packed routine?she?s not only a multi-Platinum singer, she?s a businesswoman and busy mom with two young children. Based on her own active lifestyle, diet, and workouts, FIND YOUR PATH is packed with meal plans, recipes, weekly workout programs, and guidelines for keeping a weekly food and workout journal. It also introduces readers to Carrie's signature Fit52 workout, which involves a deck of cards and exercises that can be done at home?and it sets her fans on a path to sustainable health and fitness for life.
Fit52 begins with embracing the "Pleasure Principle" in eating, making healthy swaps in your favorite recipes, and embracing a long view approach to health?so that a cheat a day won't derail you. Throughout the book, Carrie shares her personal journey towards optimal health, from her passion for sports as a kid, to the pressure to look perfect and fit the mold as she launched her career after winning American Idol, to eventually discovering the importance of balance and the meaning of true health.
For Carrie, being fit isn't about crash diets or a workout routine that you're going to dread. It?s about healthy choices and simple meals that you can put together from the ingredients in your local grocery store, and making the time, every day, to move, to love your body, and to be the best version of yourself.
Reviews