Freedom of the Mask (SIGNED & NUMBERED LIMITED EDITION) by Robert McCammon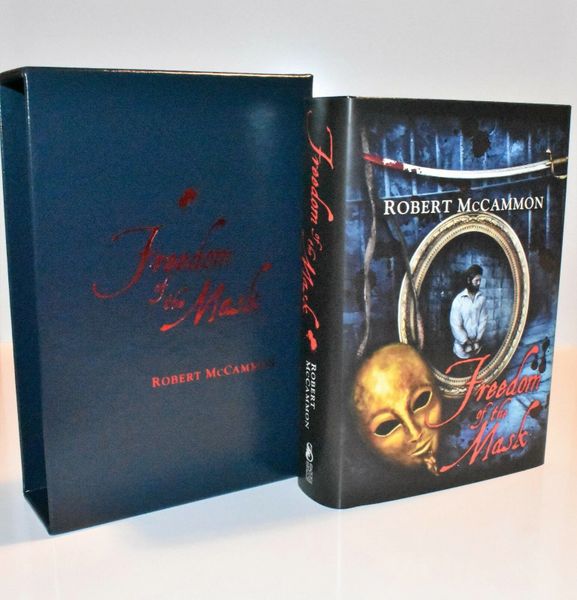 Freedom of the Mask (SIGNED & NUMBERED LIMITED EDITION) by Robert McCammon
Signed & Numbered Limited Edition
First Printing, First Edition Hardcover 
Hand Signed by Robert McCammon
The year is 1703, and Matthew Corbett, professional "problem solver," is missing. Last seen by his friends in New York before he departed on a lucrative, seemingly straightforward mission for the Herrald Agency in Charles Town, he's been too long absent. His comrade-in-arms Hudson Greathouse has an increasing sense the young friend he thinks of as a son must have met with some unexpected peril. Following his hunch, Greathouse retraces Matthew's steps only to find him first presumed dead, then accused of murdering a young woman and apparently en route to London with a devious Prussian count last encountered on Professor Fell's Pendulum Island.
Little does he know that Matthews's circumstances are growing worse by the second. For when Matthew arrives in the bustling squalor of Londontown, he's come shackled, charged for the murder of Count Anton Mannerheim Dahlgren. No matter the lack of body, presumed lost to the ocean. He soon finds himself locked up in the infamous Newgate prison, and has drawn the interest of a mysterious mask-wearing vigilante accused of several gruesome murders. Greathouse and the woman Matthew loves, Berry Grigsby, travel across the high seas to England to aid their friend, but it is impossible to know whether they will reach him in time to save his life.
Freedom of the Mask is the sixth installment in bestselling author Robert McCammon's acclaimed series of standalone historical thrillers featuring the exploits of a young hero the USA Character Approved Blog has called "the Early American James Bond." The most surprising and ambitious volume to date, this is a novel filled with unpredictable twists and a note-perfect depiction of early 1700s London. Fans will not want to miss Matthew Corbett's most dangerous adventure yet.
Reviews