Hellraiser: The Toll (SIGNED LIMITED EDITION) by Clive Barker, Mark Alan Miller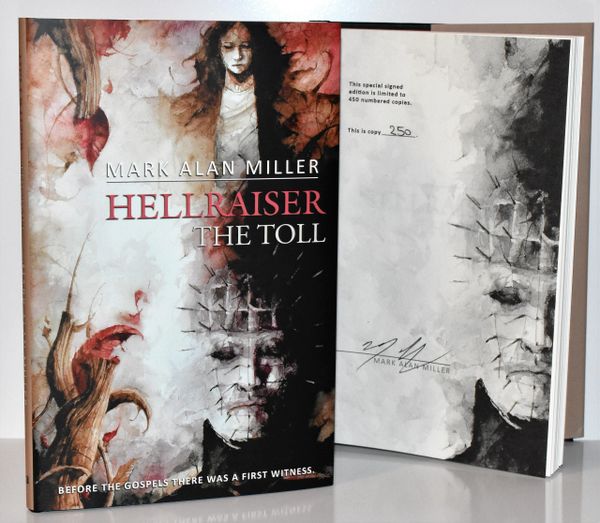 Hellraiser: The Toll (SIGNED LIMITED EDITION) by Clive Barker, Mark Alan Miller
Signed Limited Edition to 450 numbered cloth bound copies signed by Mark Alan Miller
Published by SST Publications

Story by Clive Barker
Written by Mark Alan Miller
Hellraiser: The Toll tells the story of what happened between Clive Barker's iconic works The Hellbound Heart and its follow up, The Scarlet Gospels.
Thirty years after Kirsty Cotton escaped from the clutches of the Hell Priest, Pinhead, and lived to fight another day, her life has never been the same. Every few years she fashions a new name, a new identity, and a new home for herself; She is a woman who is running from her past at all costs, which is why it comes as such a surprise when she receives a mysterious letter in the mail, addressed to the woman she's been running from over half her life. 
Answering the letter's query, she begins a descent down a rabbit hole to the ultimate confrontation. Her actions stir something unnamable in the ether, and throw her into a game where nothing—not even what she sees in front of her very eyes—can be trusted. 
With equal parts economy and eloquence, author Mark Alan Miller brings to life the beginning of the end as The Toll expands the Hellraiser universe, and shows that before Harry D'Amour's adventures in The Scarlet Gospels, there was a first witness to Pinhead's infernal plan. 
Reviews