Insurgent Collectors Edition (SIGNED BOOK) by Veronica Roth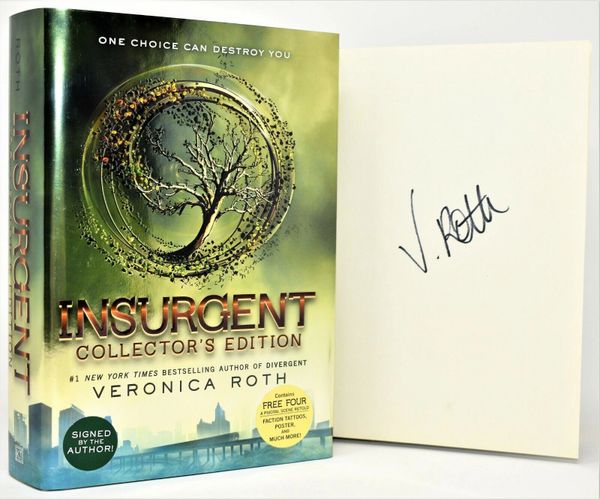 Insurgent Collectors Edition (SIGNED BOOK) by Veronica Roth
First Printing, First Collector's Edition Hardcover

Hand Signed by Veronica Roth

This deluxe collector's edition of the #1 New York Times bestselling dystopian sensation is perfect for fans and collectors alike, and includes:
"Free Four": This pivotal thirteen-page scene from

 

Divergent, retold from Tobias's point of view, reveals unknown facts and fascinating details about Four's character, his past, his own initiation, and his thoughts about new Dauntless initiate Tris Prior.
A ribbon bookmark
An exclusive, full-color foldout poster
Faction tattoos
Deckled edges
Forty-eight pages of bonus content, including interviews with Veronica Roth, playlists, faction party tips, and much more!
One choice can transform you—or it can destroy you. But every choice has consequences, and as unrest surges in the factions all around her, Tris Prior must continue trying to save those she loves—and herself—while grappling with haunting questions of grief and forgiveness, identity and loyalty, politics and love.
Tris's initiation day should have been marked by celebration and victory with her chosen faction; instead, the day ended with unspeakable horrors. War now looms as conflict between the factions and their ideologies grows. And in times of war, sides must be chosen, secrets will emerge, and choices will become even more irrevocable—and even more powerful. Transformed by her own decisions but also by haunting grief and guilt, radical new discoveries, and shifting relationships, Tris must fully embrace her Divergence, even if she does not know what she may lose by doing so.
Reviews