Morning Star, Dark Age (SIGNED LIMITED EDITION) by Pierce Brown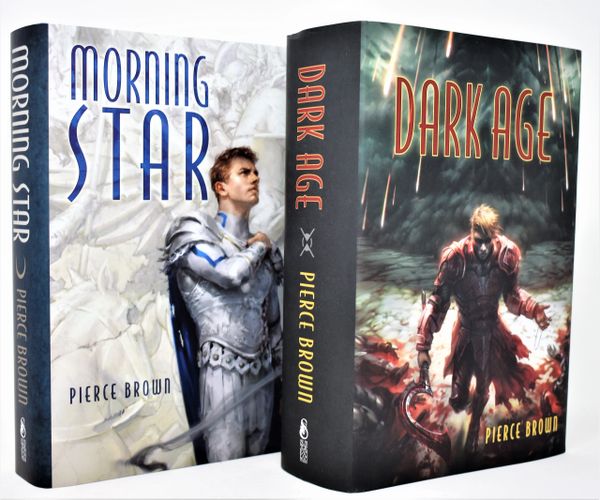 Morning Star, Dark Age (SIGNED LIMITED EDITION) by Pierce Brown
Published by Subterranean Press, Dust jacket and interior illustrations by Tommy Arnold
Signed & Numbered Limited Edition Hardcover's
Signed by Pierce Brown with matching Book Number

Morning Star:

Darrow au Andromedus ascended Gold society with the dream of building a better world for the Reds. The Golds continue to take from him. They have taken his wife and now his liberty, imprisoned and tortured by the ArchGovernor of Mars, just as they enslaved his people. But they can not take away his dream. Darrow will not relinquish his goal of dismantling the hierarchy once and for all. 
It is time for Darrow and his comrades to face their powerful enemies. It is time for the revolution to begin. 
But this war will not be easily won. Certain of the knowledge that the masters will fight to death to keep them down, Darrow's best hope is to lift up those kept chained in darkness.
Dark Age:

There is no going back for them or for us.
Darrow, the man known as the Morning Star and the Reaper, watched as his successful revolution against the Golds and dreams of peace turned into neverending war. Now cast out by the society he fought to create, he wages a bloody battle on Mercury that may risk transforming his cause into the kind of tyranny he once stood against… 
But as Darrow is on the brink of losing himself, other figures continue to rise. Lysander au Lune, the heir to the former empire, has returned to the Core with the aim to somehow unify the corrupt, competing Gold families and to fight Darrow in the skies above Mercury. Meanwhile, Mustang, Sovereign of the Republic and Darrow's wife, works to support him while navigating treacherous political waters on Luna. Young Red refugee Lyria must fight or escape charges of treason, and thief Ephraim may be the only hope for rescue for Darrow and Mustang's son Pax and his comrade Sevro's daughter Electra. 
The fan favorite Red Rising series by #1 New York Times' bestseller Pierce Brown continues with Dark Age, the gripping sequel to Iron Gold. Howlers won't want to miss out on this lavish signed edition of the book NPR says "might be the best in the series."

Reviews