Skyward (SIGNED BOOK) Brandon Sanderson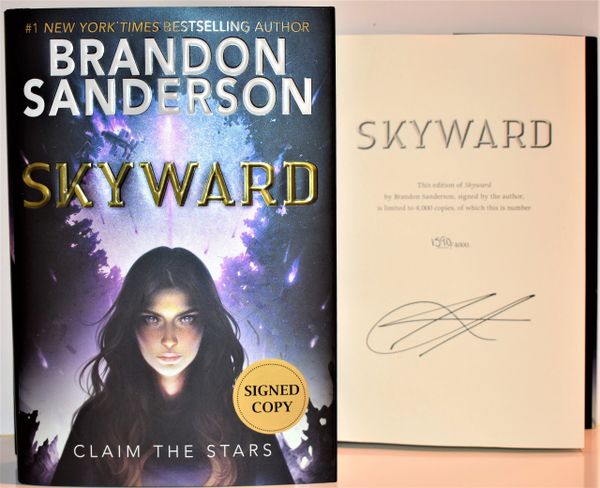 Skyward (SIGNED BOOK) Brandon Sanderson
First Print - First Edition Hardcover

Autographed/ Hand Signed by Brandon Sanderson
Limited to 4000 numbered books
Published by Ember

From Brandon Sanderson, the #1 New York Times bestselling author of the Reckoners series, Words of Radiance, and the internationally bestselling Mistborn series, comes the first book in an epic new series about a girl who dreams of becoming a pilot in a dangerous world at war for humanity's future.

Spensa's world has been under attack for decades. Now pilots are the heroes of what's left of the human race, and becoming one has always been Spensa's dream. Since she was a little girl, she has imagined soaring skyward and proving her bravery. But her fate is intertwined with her father's--a pilot himself who was killed years ago when he abruptly deserted his team, leaving Spensa's chances of attending flight school at slim to none.

No one will let Spensa forget what her father did, yet fate works in mysterious ways. Flight school might be a long shot, but she is determined to fly. And an accidental discovery in a long-forgotten cavern might just provide her with a way to claim the stars.





Legion: The Many Lives of Stephen Leeds, is #1 New York Times bestselling author Brandon Sanderson's novella collection of science fiction thrillers that will make you question reality--including a never-before-published story.

Stephen Leeds is perfectly sane. It's his hallucinations who are mad.
A genius of unrivaled aptitude, Stephen can learn any new skill, vocation, or art in a matter of hours. However, to contain all of this, his mind creates hallucinatory people―Stephen calls them aspects―to hold and manifest the information. Wherever he goes, he is joined by a team of imaginary experts to give advice, interpretation, and explanation. He uses them to solve problems . . . for a price.
His brain is getting a little crowded and the aspects have a tendency of taking on lives of their own. When a company hires him to recover stolen property―a camera that can allegedly take pictures of the past―Stephen finds himself in an adventure crossing oceans and fighting terrorists. What he discovers may upend the foundation of three major world religions―and, perhaps, give him a vital clue into the true nature of his aspects.
Legion: The Many Lives of Stephen Leeds includes Legion, Legion: Skin Deep and the brand new, shocking finale to Leeds' story, Lies of the Beholder.
Reviews