Slade House (UK SIGNED LIMITED EDITION) by David Mitchell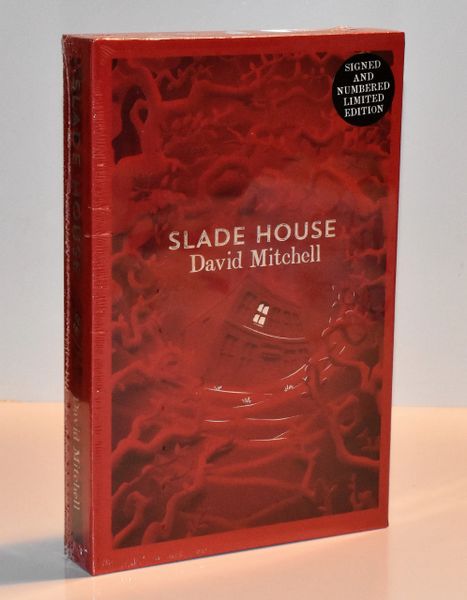 Slade House (UK SIGNED LIMITED EDITION) by David Mitchell
UK SIGNED & Numbered Limited Edition
Hand Signed by David Mitchell
First UK Printing/Edition.

New/Sealed in Publishers shrink wrap (Slipcased) Book numbers will vary, one copy opened for pictures....your copy will be sealed
This special edition of SLADE HOUSE, limited to 1,500 copies, is signed and numbered by the author. It has a uniquely designed cover, endpapers and slipcase, is bound with head and tail bands, and comes with a ribbon. Born out of the short story David Mitchell published on Twitter in 2014 and inhabiting the same universe as his latest bestselling novel The Bone Clocks, this is the perfect book to curl up with on a dark and stormy night. Turn down Slade Alley - narrow, dank and easy to miss, even when you're looking for it. Find the small black iron door set into the right-hand wall. No handle, no keyhole, but at your touch it swings open. Enter the sunlit garden of an old house that doesn't quite make sense; too grand for the shabby neighbourhood, too large for the space it occupies. A stranger greets you by name and invites you inside. At first, you won't want to leave. Later, you'll find that you can't. This unnerving, taut and intricately woven tale by one of our most original and bewitching writers begins in 1979 and reaches its turbulent conclusion around Hallowe'en, 2015. Because every nine years, on the last Saturday of October, a 'guest' is summoned to Slade House. But why has that person been chosen, by whom and for what purpose? The answers lie waiting in the long attic, at the top of the stairs...
Reviews