Speak Easy SIGNED by Catherynne M. Valente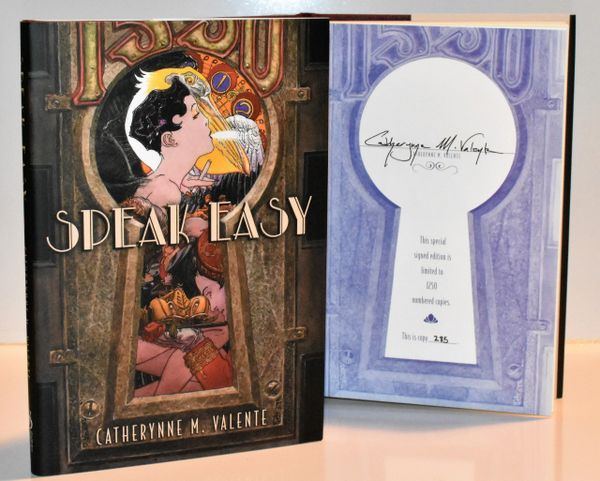 Speak Easy SIGNED by Catherynne M. Valente
Hand Signed by Catherynne M. Valente
First Printing, First Edition Hardcover
Book numbers will vary
If you go looking for it, just about halfway uptown and halfway downtown, there's this hotel stuck like a pin all the way through the world. Down inside the Artemisia it's this mortal coil all over. Earthly delights on every floor.

The hotel Artemisia sits on a fantastical 72nd Street, in a decade that never was. It is home to a cast of characters, creatures, and creations unlike any other, including especially Zelda Fair, who is perfect at being Zelda, but who longs for something more. The world of this extraordinary novella--a bootlegger's brew of fairy tales, Jazz Age opulence, and organized crime--is ruled over by the diminutive, eternal, sinister Al. Zelda holds her own against the boss, or so it seems. But when she faces off against him and his besotted employee Frankie in a deadly game that just might change everything, she must bet it all and hope not to lose...

Multiple-award-winning, New York Times' bestselling author Catherynne M. Valente once again reinvents a classic in ''Speak Easy,'' which interprets ''The Twelve Dancing Princesses'' if Zelda Fitzgerald waltzed in and stole the show. This Prohibition-Era tale will make heads spin and hearts pound. It's a story as old as time, as effervescent as champagne, and as dark as the devil's basement on a starless night in the city.
Reviews