Stinger (Signed & Numbered Limited Edition) by Robert McCammon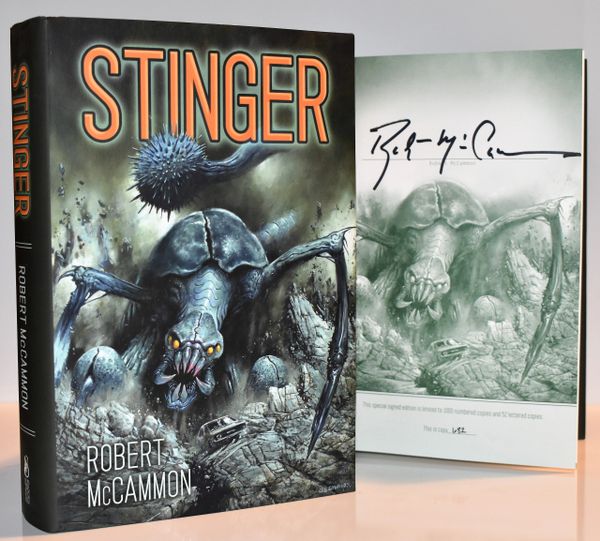 Stinger (Signed & Numbered Limited Edition) by Robert McCammon
SIGNED & NUMBERED Limited Edition Hardcover
Hand Signed by Robert McCammon onto the limitation page
First published as a paperback original in 1988, Stinger remains one of Robert McCammon's wildest, most compelling creations. Both a furiously paced action novel and an affectionate tribute to the SF/Horror films of an earlier era, it is vintage McCammon, and a grand, often visceral entertainment.

The story takes place during a single twenty-four hour period in Inferno, Texas. Inferno is a town in trouble, driven to the brink by racial tension, gang violence, and a collapsing economy. But things can always get worse, and they do so with astonishing speed when an unidentified spacecraft crash lands in the desert outside of town, followed by a second craft bearing the alien being who will soon be known as Stinger. Stinger is a kind of interstellar hunter on a mission he intends to complete, whatever the cost. He brings with him an endless array of technological marvels and an infinite capacity for destruction that threaten the existence of Inferno, its inhabitants, and the larger world beyond.

Filled with a large cast of vividly realized characters and sporting some of the most memorably horrific imagery you will ever encounter, ''Stinger'' is an adrenaline-fueled narrative of the highest order, its classic, pulp fictional elements transformed and elevated by a master storyteller. The result is pure Robert McCammon, an engrossing, hugely enjoyable experience that is sure to stay with you for a very long time to come.
Reviews