The Complete Borne (SIGNED LIMITED EDITION) by Jeff Vandermeer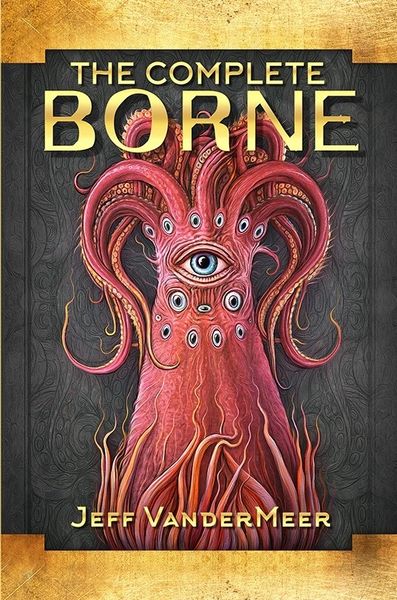 The Complete Borne (SIGNED LIMITED EDITION) by Jeff Vandermeer
The Complete Borne
Hand Signed by Jeff Vandermeer
Limited to 500 Signed & Numbered from Subterranean Press
In the course of a career that has spanned more than three decades, Jeff VanderMeer has emerged as one of the most elegant, intelligent literary fantasists of the modern era. His best work bears comparison to such established masters as John Crowley and Ursula K. Le Guin, and he keeps getting better, book after book. In 2017, he followed his groundbreaking Southern Reach Trilogy with the powerful dystopian fantasy, Borne. In The Complete Borne, VanderMeer expands that novel's original vision through supplementary narratives that enlarge our understanding of his astonishing fictional world. 
The centerpiece of this collection is the original novel itself. Borne offers a portrait of a broken, toxic future dominated by three elements: the immense flying bear known as Mord, an elusive figure called simply the Magician, and the remnants of a once powerful organization called The Company. Into this dying world come Rachel, a woman who survives by scavenging food and discarded "biotech," and Borne, a bizarre and protean figure unlike any you have ever encountered. Their evolving relationship forms the heart of the novel and leads to a conclusion you will never forget.
Borne is filled with strange, often misbegotten creatures, the products of unchecked Company experiments. In a heavily illustrated supplement called "Teem's Bestiary," we learn a great deal about the nature and history of such singular creatures as memory beetles, mudskippers, damsel flies and red salamanders. Of special note is the perhaps mythical creature known simply as "Strange Bird," the title figure of the harrowing—and deeply affecting—novella that follows.
"Strange Bird" begins with the nameless bird's escape from a sinister laboratory—the only home she has ever known—into a world of unaccustomed freedom. She is a purely innocent creature searching for love, a sense of purpose, and a place to call home. What she finds is something very different. Her journey through assorted hazards toward an unforeseen transformation has the feel of a tightly compressed epic. Like everything else in this volume, it is original, enthralling, and impossible to forget.
The Complete Borne ends with "The Three", a brand-new story. The tale is typically engaging, readable, and beautifully written. It also adds a crucial layer to the fictional edifice that VanderMeer has built.
Taken individually, the pieces in this collection all offer their own self-contained pleasures. Taken together, they form a sort of narrative mosaic in which the whole truly is more than the sum of its dazzling parts. The Complete Borne takes us to a world that is grim, frequently frightening, and paradoxically beautiful. This is literary fantasy at its deepest and most developed. It doesn't get better than this.
Reviews