The Hero Code & The Wisdom of the Bullfrog (SIGNED BOOK) by Admiral William H. McRaven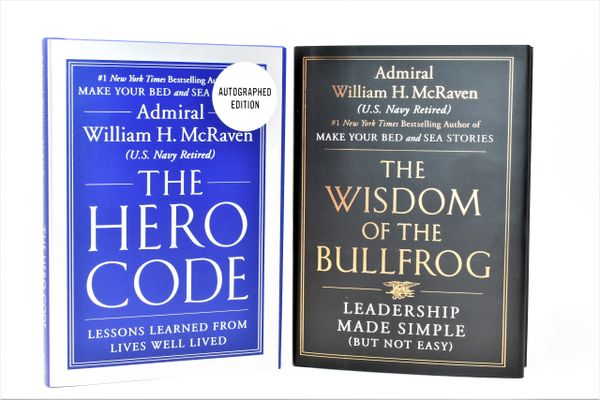 The Hero Code & The Wisdom of the Bullfrog (SIGNED BOOK) by Admiral William H. McRaven
The Hero Code & The Wisdom of the Bullfrog by Admiral William H. McRaven, published by Grand Central Publishing

Each a First Print, First Edition Hardcover, Signed Edition
Each Hand Signed by William H. McRaven 


From the acclaimed, #1 New York Times bestselling author of Make Your Bed—a short, inspirational book about the qualities of true, everyday heroes.

THE HERO CODE is Admiral McRaven's ringing tribute to the real, everyday heroes he's met over the years, from battlefields to hospitals to college campuses, who are doing their part to save the world.

When Bill McRaven was a young boy growing up in Texas, he dreamed of being a superhero. He longed to put on a cape and use his superpowers to save the earth from destruction. But as he grew older and traveled the world, he found real heroes everywhere he went -- and none of them had superpowers. None of them wore capes or cowls. But they all possessed qualities that gave them the power to help others, to make a difference, to save the world: courage, both physical and moral; humility; a willingness to sacrifice; and a deep sense of integrity.

THE HERO CODE is not a cypher, a puzzle, or a secret message. It is a code of conduct; lessons in virtues that can become the foundations of our character as we build a life worthy of honor and respect.
THE WISDOM OF THE BULLFROG. The title "Bullfrog" is given to the Navy SEAL who has served the longest on active duty. Admiral McRaven was honored to receive this honor in 2011 when he took charge of the United States Special Operations Command. When McRaven retired in 2014, he had 37 years as a Navy SEAL under his belt, leading men and women at every level of the special operations community. In the ensuing four years, he served as Chancellor to the entire University of Texas System, with its 230,000 students and 100,000 faculty and health care workers.

During those four decades, Admiral McRaven dealt with every conceivable leadership challenge, from commanding combat operations—including the capture of Saddam Hussein, the rescue of Captain Phillips, and the raid for Osama bin Laden. 

THE WISDOM OF THE BULLFROG draws on these and countless other experiences from Admiral McRaven's incredible life, including crisis situations, management debates, organizational transitions, and ethical dilemmas, to provide readers with the most important leadership lessons he has learned over the course of his forty years of service. Each chapter provides a Make Your Bed-like parable, rich with insights like those featured in his bestselling memoir, Sea Stories, about the specific leadership traits required to be at the top of your game, including:  
Who Dares, Wins

Run to the Sound of the Guns

No Plan Survives First Contact with the Enemy
THE WISDOM OF THE BULLFROG is Admiral McRaven's clear-eyed treatise on the leadership qualities that separate the good from the truly great.

Reviews