The Human Division (SIGNED & NUMBERED LIMITED EDITION) by John Scalzi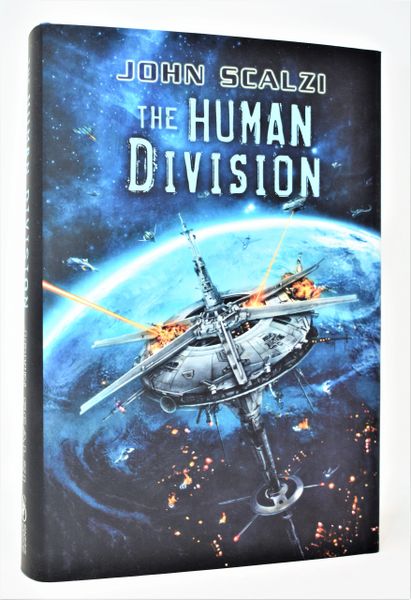 The Human Division (SIGNED & NUMBERED LIMITED EDITION) by John Scalzi
The Human Division by John Scalzi
 SIGNED & NUMBERED LIMITED EDITION
Signed by John Scalzi onto the Limitation Page
Published by Subterranean Press
Following the events of The Last Colony, John Scalzi tells the story of the fight to maintain the unity of the human race.
The people of Earth now know that the human Colonial Union has kept them ignorant of the dangerous universe around them. For generations the CU had defended humanity against hostile aliens, deliberately keeping Earth an ignorant backwater and a source of military recruits. Now the CU's secrets are known to all. Other alien races have come on the scene and formed a new alliance―an alliance against the Colonial Union. And they've invited the people of Earth to join them. For a shaken and betrayed Earth, the choice isn't obvious or easy.
Against such possibilities, managing the survival of the Colonial Union won't be easy, either. It will take diplomatic finesse, political cunning…and a brilliant "B Team," centered on the resourceful Lieutenant Harry Wilson, that can be deployed to deal with the unpredictable and unexpected things the universe throws at you when you're struggling to preserve the unity of the human race.
Being published online from January to April 2013 as a three-month digital serial, The Human Division will appear as a full-length novel of the Old Man's War universe, plus―for the first time in print―the first tale of Lieutenant Harry Wilson, and a coda that wasn't part of the digital serialization.
The Colonial Union stands on the precipice of chaos. Newly estranged from the Earth, the source of its soldiers and colonists, humanity's union of planets is increasingly vulnerable to the alien species that it has warred with for centuries... and increasingly suspicious of The Conclave, a new confederation of alien worlds that many in the Colonial Union believe signals the end of human freedom in the galaxy.
Pressed to change in these times of decreasing resources and dwindling option, the Colonial Union tries a new strategy: Diplomacy. It is reaching out to species that in other times they might have fought. But even as the Colonial Union moves toward peace, it becomes increasingly clear that some would prefer other, more dangerous paths... paths that could lead to the extinction of the human race. Diplomats, soldiers, colonists and aliens alike are caught up in a grand game, where not all the players are seen, nor all their motivations obvious.
John Scalzi returns to the best-selling, Hugo-nominated "Old Man's War" universe, with thirteen tales which taken together create a novel of intrigue and action, and push human and alien alike to the breaking point. 
As many of you know, The Human Division was originally published as thirteen separate ebook installments, each with a wraparound John Harris illustration. For the first time ever in print, these gorgeous pieces are included as a full-color portfolio in our edition.
Reviews