The Murderbot Diaries & Network Effect (Signed Limited Edition) by Martha Wells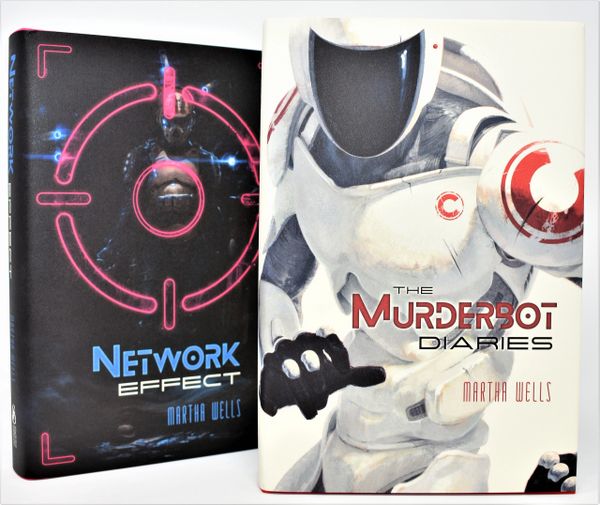 The Murderbot Diaries & Network Effect (Signed Limited Edition) by Martha Wells
Signed & Matched Number Limited Edition Hardcovers
Hand Signed by Martha Wells and Numbered
Published by Subterranean Press

Designed for duty and destined for adventure, the secretly autonomous cyborg SecUnit with the self-awarded nom de guerre Murderbot really just wants to access media feeds and leave its human charges to their own devices. Unfortunately, Murderbot's days of high-bandwidth soap opera viewing come to an end when an alien creature attacks the off world expedition it is assigned to guard. Here begins the award-winning and instantly beloved series The Murderbot Diaries, in which Murderbot investigates its own past and present, and ultimately rises to meet a threat to its former owner—and possibly friend—Dr. Mensah.
With Murderbot, New York Times bestselling author Martha Wells has created one of the most engaging characters to emerge from science fiction in decades. Witty observations, troubling memories, a sardonic voice, and the rendering of action-packed combat sequences with élan and panache combine for a virtuoso performance in all four of the novellas collected here: All Systems Red, Artificial Condition, Rogue Protocol, and Exit Strategy. This collection also includes an original short story appearing in print for the first time, "Home: Habitat Range Niche Territory."
Across alien environments, corporate intrigue, and high tech adventure that reinvents and reenergizes genre staples like aliens, powered combat armor, and spaceships, Wells exhibits her mastery over an entire subgenre that stretches all the way back to Mary Shelley's Frankenstein, the awakening into independence of an artificial being created by humans.
The Murderbot Diaries have earned Wells rave reviews around the world, as well as Hugo, Nebula, and Locus Awards. But, most important of all, they've earned a legion of devoted and delighted fans.
Lettered: 26 signed leatherbound copies, housed in a custom traycase 
Limited: 400 signed numbered copies
Reviews