The Southern Reach Trilogy (SIGNED LIMITED EDITION) by Jeff Vandermeer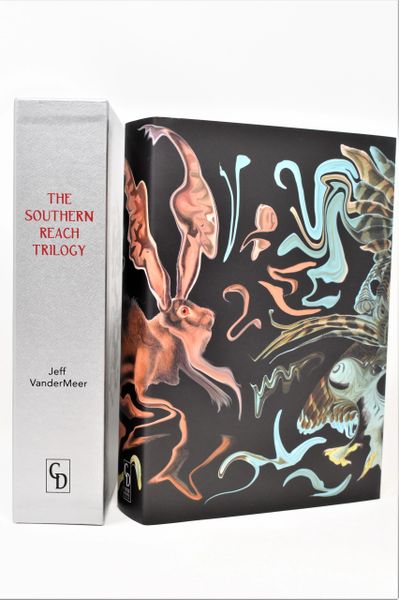 The Southern Reach Trilogy (SIGNED LIMITED EDITION) by Jeff Vandermeer
The Southern Reach Trilogy: The Deluxe Oversized Signed Special Edition!

by Jeff VanderMeer
About this Special Edition:
Gathered together in this beautiful, oversized special edition is the complete text of Jeff VanderMeer's Southern Reach trilogy (Annihilation, Authority, and Acceptance). These books landed on more than thirty Year's Best lists, including Entertainment Weekly's Top 10, and Paramount Pictures recently released a critically acclaimed movie based on the first volume starring Tessa Thompson, Oscar Isaac, Gina Rodriguez, Natalie Portman, and Jennifer Jason Leigh.
About the Book:
Area X—a remote and lush terrain—has been cut off from the rest of the continent for decades. Nature has reclaimed the last vestiges of human civilization.
The first expedition returned with reports of a pristine, Edenic landscape; all the members of the second expedition committed suicide; the third expedition died in a hail of gunfire as its members turned on one another; the members of the eleventh expedition returned as shadows of their former selves, and within months of their return, all had died of aggressive cancer.
This is the twelfth expedition. Their group is made up of four women: an anthropologist; a surveyor; a psychologist, the de facto leader; and our narrator, a biologist. Their mission is to map the terrain and collect specimens; to record all their observations, scientific and otherwise, of their surroundings and of one another; and, above all, to avoid being contaminated by Area X itself.
They arrive expecting the unexpected, and Area X delivers—they discover a massive topographic anomaly and life forms that surpass understanding—but it's the surprises that came across the border with them, and the secrets the expedition members are keeping from one another, that change everything...

Published as a Slipcased Hardcover Limited Edition:
• Limited to just 698 signed and hand-numbered copies
• Personally signed by the author on a unique signature page
• Printed on 60# acid-free paper
• Bound in a fine binding with colored head and tail bands
• Featuring hot foil stamping on the front boards and spine
• Printed and bound with custom marbled endpapers
• Smyth sewn to create a more durable binding
• Each copy housed in a fine, hand-made slipcase
• Limited ONE TIME printing of this special edition
• Retail price $150
Reviews