The Tale of Kitty-in-Boots by Beatrix Potter (US First Edition)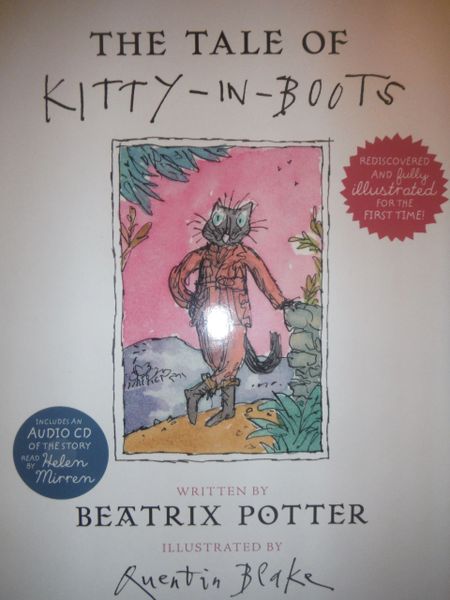 The Tale of Kitty-in-Boots by Beatrix Potter (US First Edition)
The Tale of Kitty-in-Boots by Beatrix Potter (Includes a CD of the story read by Helen Mirren)
A Collectible First Printing, First US Edition Hardcover from Beatrix Potter
(Dinged Copy)
Potter's manuscript for The Tale of Kitty-in-Boots was found by publisher Jo Hanks in 2014, in the V&A archive and has now been published just over a century after Potter wrote it. Hanks tracked down the manuscript for the story after finding a reference to it in a letter Potter had written to her publisher in 1914.
"This delightfully comic story was not published in Potter's lifetime and this is the first time it is available as a tale in its own right."

From the creator of Peter Rabbit comes the tale of a serious, well-behaved young black cat, who leads a daring double life defeating vile villains.

Beatrix Potter created some of the world's most beloved characters, and they will be coming to life in a movie slated for Spring 2018. And this book, written in 1941 but never illustrated, introduces the charming Kitty-in-Boots, who has been imagined by Quentin Blake.

When Miss Kitty sneaks out to go hunting in her beautiful boots she gets herself into all sorts of scrapes, but on this particular night she meets the foxiest hunter of them all—Mr. Tod! This utterly entertaining tale is filled with mistaken identities, devious villains, and even an appearance from Peter Rabbit.
Reviews