The Themis Files Signed Limited Edition Set (Sleeping Giants, Waking Gods, Only Human) by Sylvain Neuvel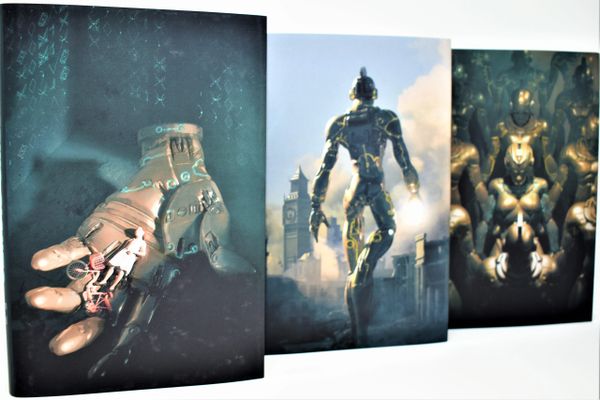 The Themis Files Signed Limited Edition Set (Sleeping Giants, Waking Gods, Only Human) by Sylvain Neuvel
The Themis Files (Sleeping Giants, Waking Gods, Only Human) by Sylvain Neuvel, published by Subterranean Press
SIGNED & Matched Number Limited Edition Set
Hand Signed by Sylvain Neuvel
One day, a girl named Rose Franklin stumbles upon a giant metallic hand covered in intricate carvings buried near her home in Deadwood, South Dakota. Seventeen years later, Rose is still trying to solve its mysteries, now as a physicist in charge of a top secret team determined to unlock the secrets this technology holds. As she and her team get closer to assembling the truth—a robot buried in pieces around the globe—new challenges appear that may threaten the fate of the world. 
Will the team's discovery be a means of peace or a weapon of mass destruction? If robots take over the Earth, can it be retaken? And what part will Rose play in the ultimate outcome? 
In the groundbreakingly inventive three volumes of The Themis Files—Sleeping Giants, Waking Gods, and Only Human—acclaimed author Sylvain Neuvel tells a gripping story of the fight for humanity's future by blending in interviews, journal entries, transcripts, and news articles for an unforgettable experience.
Reviews