Use Of Weapons (Signed Limited Edition) by Iain M. Banks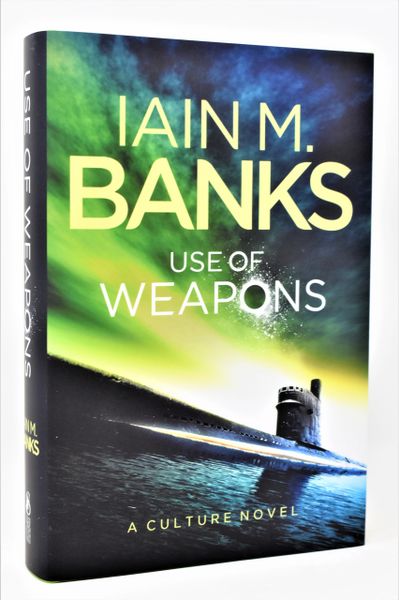 Use Of Weapons (Signed Limited Edition) by Iain M. Banks
Signed & Numbered Limited Edition Hardcover
Hand Signed by Ken MacLeod
Published by Subterranean Press
In the course of a varied and prolific career, the late Iain M. Banks produced some of the most memorable science fiction of the 20thcentury. The heart of his achievement was a sequence of novels featuring his signature creation: The Culture. First published in 1990, Use of Weapons was the third novel in the series, and it remains one of Banks's most astonishing – and complex – accomplishments.

The Culture is the designation for a vast conglomerate of advanced races populated by human, humanoid, and artificially intelligent entities. Its purpose: to intervene, often with unintended consequences, in the affairs of less developed civilizations. The protagonist of Use of Weapons is Cheradenine Zakalwe, an "outsider" recruited by the Culture's Special Circumstances division to serve, wherever needed, as a roving galactic operative. His story, which dominates the novel, proceeds along two narrative paths.
The first of these tells the story of Zakalwe's latest mission on behalf of the Culture. His job: to travel to a remote star system currently drifting into political instability and make contact with a former colleague named Beychae. Zakalwe's quest is told in straightforward chronological order. A second, complementary narrative proceeds in reverse order, moving backward in time to encompass the origin and history of Zakalwe's involvement with the Culture. Eventually, the two narratives will intersect, culminating in a revelation both surprising and inevitable.
Despite its place in an ongoing series of thematically related books, Use of Weapons is an independent novel that can be read and enjoyed both by newcomers and by the author's many longtime fans. This is science fiction as it should be written: flamboyant, endlessly inventive, and constantly, compulsively readable. It is the clear product of a master storyteller who died too soon, leaving a vast, indelible impression behind.
Reviews