Weight of Words Dave McKean and William Schafer (SIGNED & NUMBERED LIMITED EDITION)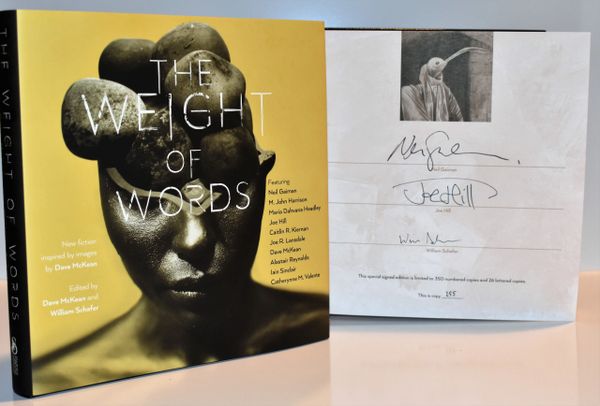 Weight of Words Dave McKean and William Schafer (SIGNED & NUMBERED LIMITED EDITION)
First Printing - First Edition Hardcover
Signed & Numbered Limited Edition to 350 Copies
Hand Signed by Author Contributors
The Weight of Words — Dave McKean
Belladonna Nights — Alastair Reynolds
The Orange Tree — Maria Dahvana Headley
Monkey and the Lady — Neil Gaiman
No One Dies in Nowhere — Catherynne M. Valente
Objects in the Mirror — Caitlin R. Kiernan
Yummie — M. John Harrison
Robo Rapid — Joe R. Lansdale
The Language of Birds — Dave McKean
Broken Face — Iain Sinclair
All I Care About is You — Joe Hill
The Train of Death — Neil Gaiman
The consummate artistry of Dave McKean has permeated popular culture for more than thirty years. His images, at once bizarre, beautiful, and instantly recognizable, have graced an impressive array of books, CDs, graphic novels, and films. In The Weight of Words, ten of our finest contemporary storytellers, among them the artist himself, have created a series of varied, compelling narratives, each inspired by one of McKean's extraordinary paintings. The result is a unique collaborative effort in which words and pictures enhance and illuminate each other on page after page.
The volume opens with Alastair Reynolds's "Belladonna Nights," set in the world of his novel, House of Suns, the ultimately poignant portrait of a thousand nights-long "reunion" held in the far reaches of space. Elsewhere in this generous book, we find a series of lovingly crafted tales featuring, among other elements, doppelgangers, lost souls and lucid dreamers. Highlights include Joe R. Lansdale's "Robo Rapid," a near future cautionary tale about Man vs. Machine; M. John Harrison's "Yummie," in which a middle-aged man experiences the hallucinatory aftermath of a heart attack; Joe Hill's "All I Care About Is You," the account of a pure, if temporary, friendship; Catherynne M. Valente's extraordinary "No One Dies in Nowhere," a tale of death and detection in the afterlife; Maria Dahvana Headley's "The Orange Tree," the story of an 11th century golem that is also a profound study of loneliness; and "Monkey and the Lady," an ironic creation myth by the artist's longtime friend and creative associate, Neil Gaiman. Together with "Train of Death," an abbreviated account of the literal death of literature, this is one of two new stories by the always remarkable Gaiman.
The Weight of Words is the rare anthology that really does offer something for everyone. Its complementary merger of words and images adds up to something special, something more than the sum of its impressive parts. It is both a major accomplishment in itself and a long overdue tribute to an important—and necessary—artist.
The Weight of Words contains more than two dozen illustrations by Dave McKean, and is printed in two colors throughout.
Reviews