Wonder: Illustrated Edition (Signed Book) by R.J. Palacio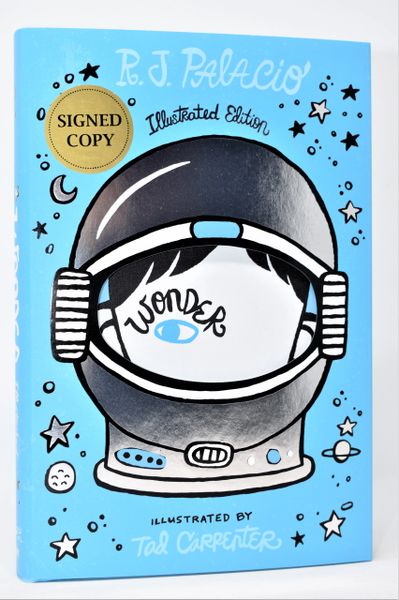 Wonder: Illustrated Edition (Signed Book) by R.J. Palacio
Hand Signed by R.J. Palacio

First Printing, First Illustrated Edition

A beautiful, color illustrated edition of the #1 New York Times bestseller, Wonder, with a new afterword from the author. Experience the extraordinary story that inspired the Choose Kind movement, like never before.

August Pullman was born with a facial difference that, up until now, has prevented him from going to a mainstream school. Starting 5th grade at Beecher Prep, he wants nothing more than to be treated as an ordinary kid--but his new classmates can't get past Auggie's extraordinary face. WONDER, now a #1 New York Times bestseller and a blockbuster hit, begins from Auggie's point of view, but soon switches to include his classmates, his sister, her boyfriend, and others. These perspectives converge in a portrait of one community's struggle with empathy, compassion, and acceptance.
 
This beautiful, color illustrated edition includes over twenty-five pieces of original art from Tad Carpenter, the artist behind the original cover. It also includes an essay from R.J. Palacio reflecting on ten years of Wonder and an introduction by Dina Zuckerberg, director of family programs at myFace, a non-profit dedicated to supporting the craniofacial difference community. Experience this extraordinary story like never before.
Reviews